Last month, Google announced that it would revamp the Gmail's design for desktops. Now, the company has pushed the changes and you can enjoy a totally redesigned Gmail.
Before starting off with the features and the changelog, here's how you can access the new Gmail interface on your desktop:
How to enable the new Gmail interface on the desktop
The new interface has not been enabled by default as Google does not want to take that liberty away. You would have to manually switch your preference in order to access it.
Open Gmail on your desktop.
Sign in.
In the top right corner, locate the settings icon and click on it.
Check the "Try the new Gmail" option.
Post that, the page will reload and you would receive a welcome message.
Click next and choose a view that you find fit. There are three views to choose from – Default, Comfortable, and Compact.
Click OK and voila! You have the new Gmail interface on your desktop.
[bs-quote quote="We don't nudge very often, but when we do it can save people from missing making a really high consequence mistake." style="style-13″ align="center" author_name="Google"][/bs-quote]
Coming to the features of the new interface, the following are the major changes the new interface has brought:
A Confidential mode.
Smart Replies.
Added security features.
Native offline support
High Priority notifications
---
Confidential mode
The first and the major highlight of the update is the addition of a confidential mode which allows you to have a deep control over your sensitive emails. The confidential mode lets you remove options to forward, copy, download or print messages. You can also set the messages to expire after a certain period of time.



Whenever you send an email to someone using the confidential mode, Gmail creates a link to the content of the email and the recipient has to click on the link in order to access it. This would work if the receiver is also making use of Gmail. For other email providers, the link would open up a Google-hosted website wherein the content will be displayed.
---
Email snoozing
The next feature in the new Gmail interface is email snoozing. After the update, you will now have an ability to snooze the emails for a specific interval of time. The option sits right next to the other options like archive and delete.
---
Integration with other GAPPS – Calendar, Notes, Google Keep
Gmail is now going to provide with a native integration with the rest of the GAPPS. At the right corner of your desktop screen, you would find your most commonly used apps like Google Calendar, Google Keep, and Tasks. This would ensure a seamless user experience. You can directly copy content from an email and paste it into your notes. Sounds easy right?
---
Smart Replies
Smart replies is not a new concept and it was introduced with the Gmail mobile app last year. Google has finally rolled out this feature to the desktop version of Gmail as well.



The smart replies feature works just as well on the new desktop version as it does on the app version. You can send a smart predicted reply to a message, thereby saving some time and keystrokes.
---
High-priority notifications
Now, this is a feature for the Gmail mobile app. If you enable this feature, Google will only deliver push notifications for messages that are deemed important or urgent, thereby saving the top space from getting crammed up.
---
Other features:
On top of all the features mentioned above, the new Gmail interface has also integrated new security options wherein the app would push phishing warnings within emails, displaying colored banners at the top of the email in red, yellow, or grey based on the perceived risk factor. Additionally, a native offline feature has also been rolled out which would let you work in Gmail even when you are offline and would sync your work the moment you have a network connectivity.



Another major change is with the way you handle the attachments in the emails. After the new update, you will be able to click on the attachment thumbnail and access it without having to load the entire message itself.
---
The new Gmail interface has brought about some substantial improvements. What are your thoughts on it? Do let us know in the comments section down below. Also, do not forget to subscribe to Android Updated. To do so, just tap the bell icon at the bottom of your device screen.
Top 5 Android app development companies you can find in India
If you are looking for an Android app development company in India, you are at the right spot. Here is a list of the top 5 Android development companies that are tried, tested, and professional.
Note – this is not a sponsored post, so the review is completely genuine.
The top 5 Android app development companies you can find in India
Fusion Informatics is a well-established with using latest techniques and being the best Mobile apps development company in Bangalore. Our company has received many projects for Android, iPhone, Blackberry and Windows devices. We build mobile app technology and provide mobile application developing services throughout the business world. Android business serving bridge more than 85% throughout world, Android remain to support its strong status in the business.
Location: INDIA, USA & UAE
Founded In: 2000
Company Size: 150 – 200
Openxcell has its offices both in India and in the USA. The company excels in Software development, mobile app development, web and e-commerce development, and a lot more.
Location: INDIA & USA
Founded In: 2008
Company Size: 100 – 250
Creative69 is yet another professional Android app development company located in India.
We offer website design, Graphics, web & mobile app development and digital marketing.
The company offers services like web design, app design, Google AdWords campaigns, graphics design, and online marketing.
Location: Gujarat, India

Smarther Technologies is a leading Mobile Application Development agency in India located in Chennai.
The company has expertise in mobile app and website development services. The company has developed more than 200+ mobile app projects so far to its clients all across the globe.
Location: Chennai, India
Founded In: 2011
Company Size: 10 – 50
Services: Mobile application development (Android & iOS), Website development, Digital Marketing
Hidden Brains Infotech is one of the oldest Android app development companies in the country and is definitely a trustworthy one.
Location: Ahmedabad, India
Founded In: 2003
Company Size: 100 – 250
Services: Web & Mobile apps, E-commerce development, Bigdata services, Chatbot development and more.
These were some of the leading app development companies you can check out if you want to build an app for your company/personal use. What are your thoughts on them? Do let us know in the comments section down below. Also, do not forget to subscribe to Android Updated. To do so, just tap the bell icon at the bottom of your device screen.
Oppo files patents for Find Me and Find U smartphone apps
Oppo has filed the trademark for two smartphone apps dubbed the Oppo Find Me and the Oppo Find U. The report has come to Android Updated courtesy of Letsgodigital.
On May 6, 2019, various trademark applications were submitted by Guangdong Oppo Mobile Telecommunications. The applications were submitted from Spain to the EUIPO (European Union Intellectual Property Office), through an intermediary Domingo Galletero Company.
This Alicante-based company has often acted in the name of Oppo, Domingo Galletero Company recorded a series of brand names for the new Reno smartphone line-up last month. This company was also responsible for the Oppo Find Z application earlier this year.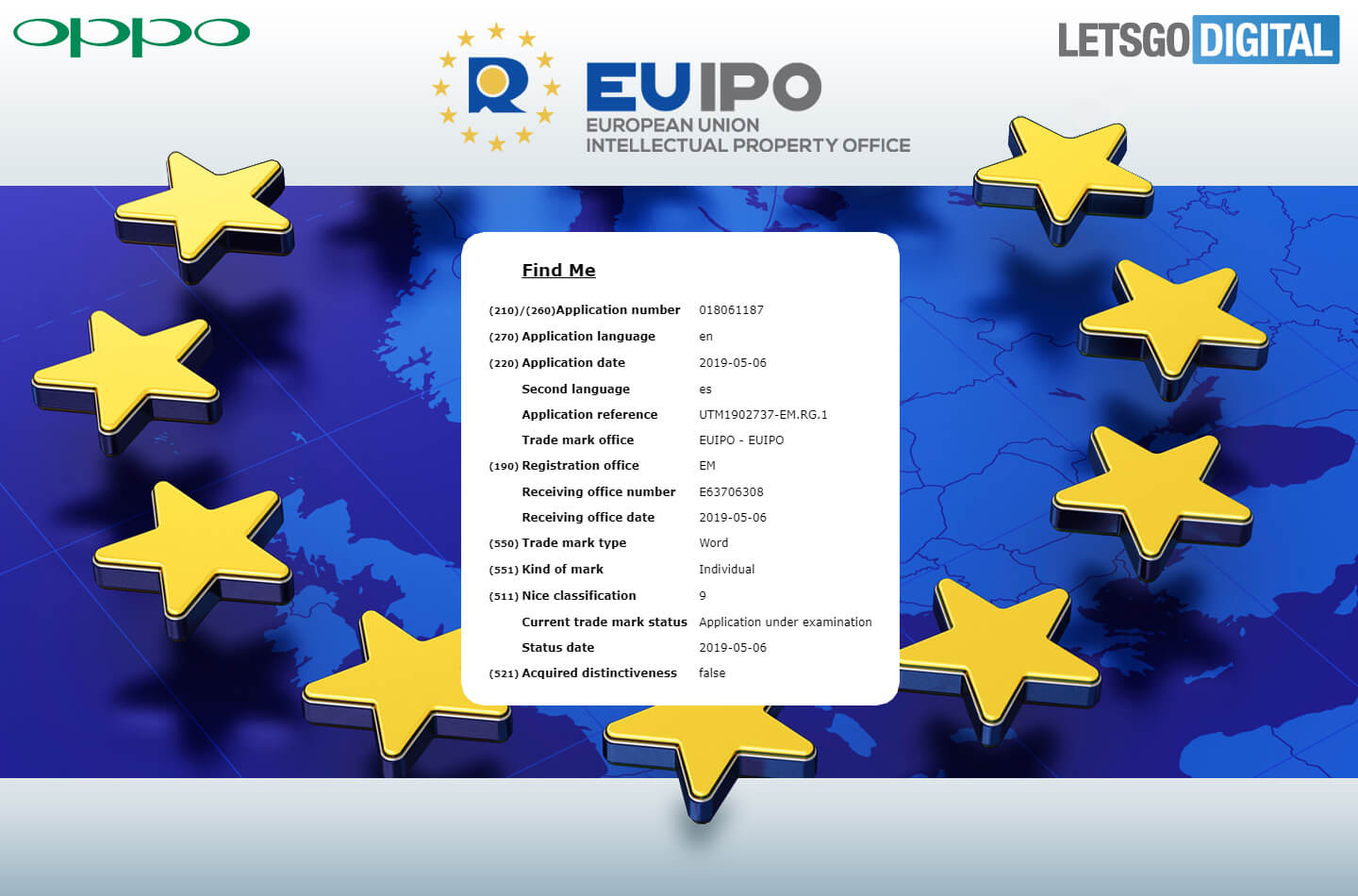 This time the company applied for brand name protection for the names Find U, Find Me and Find More. All three applications are categorized as Class 9. An extensive general description has been added, which unfortunately leaves some questions open.
Oppo trademark description : Tablet computers; Computer programs, Smartphone software; Smartwatches; Smartglasses; Interactive touch screen terminals; Humanoid robots with artificial intelligence; Wearable computers; Gesture recognition software; Virtual reality game software; Biometric scanners; Facsimile machines; Navigational instruments; Wearable activity trackers; Smartphones; Cases for smartphones; Protective films adapted for smartphones; Cell phone covers; Cell phone straps; Keyboards for smartphones; Speakers.
We are traditionally used by Oppo to place the high-end smartphones within the Find series. The latest model was launched last June, the Oppo Find X. Whether we can expect a Find smartphone again in June this year is still unknown. Finally, the Chinese manufacturer has just launched its new Reno smartphone series.

Although the description does say 'smartphones; cell phones', it is quite possible that this is not a new device, but a new app. For example, the description also says 'software applications'.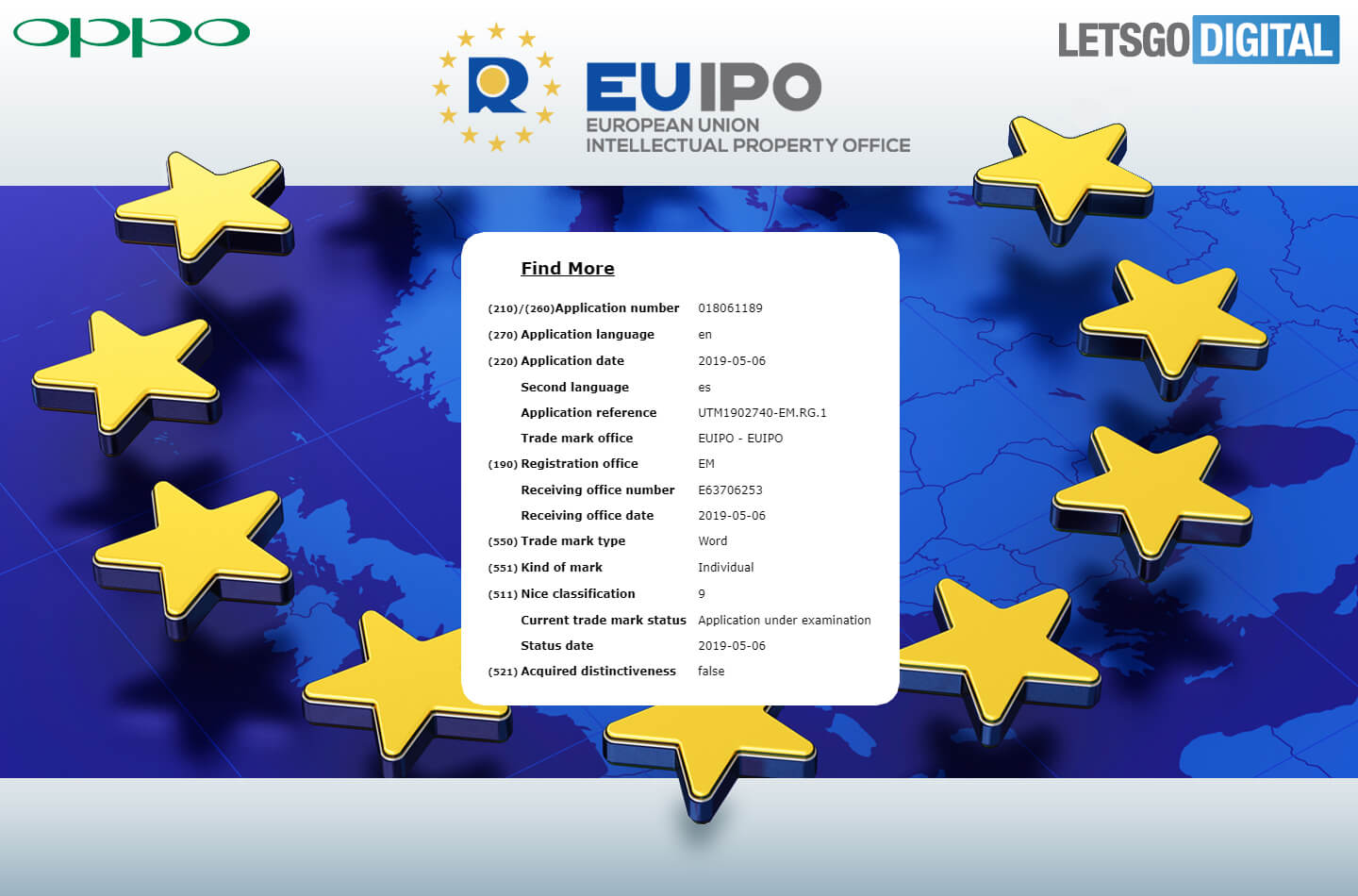 Oppo may intend to launch a new app that should make it easy to track your smartphone. For example, Samsung has the 'Find My Mobile' application. Oppo also offers a similar service, but this is done through Google Find My Device. It is therefore quite possible that the company intends to launch its own application.
View the trademark for Oppo Find U, Find Me, and Find More here.
Instagram for Android Updated: You can now ask MCQs in your stories
Instagram for Android has recently got updated. After the update, you will be able to ask multiple choice questions in your stories.
Last year, Instagram added an option to ask questions in stories and strangely enough, the feature was taken too positively and it kind of created a buzz amongst the users of the app.
Starting today, you can use the new quiz sticker in Stories to ask your friends and followers a multiple-choice question. See how well your friends know you.
Now, the developers have brought about the MCQs feature in the app. To ask a multiple-choice question, all you have to do is create a Story, add the Quiz sticker from the sticker tray, and fill in the question and answers. Post that, you have to select the correct answer and share the question. The people who answer the question will be notified as to whether or not their choice is the correct one.
Starting today, you can use the new quiz sticker in Stories to ask your friends and followers a multiple-choice question. See how well your friends know you. 🤔🙃 pic.twitter.com/a6y1PaOnSY

— Instagram (@instagram) April 23, 2019
The feature is available in both Android and iOS and you can get it from the respective app stores.
What are your thoughts on the latest Instagram update? Do let us know in the comments section down below. Also, do not forget to subscribe to Android Updated. To do so, just tap the bell icon at the bottom of your device screen.