Firefox Focus:
Firefox Focus, the privacy-focused internet browser launched by Mozilla last year has got a substantial update lately.
This time, the company aims to double down the productivity of the browser by providing you faster access to your most favorite websites with the help of an autocomplete option. Moreover, now you can even add any search engine to the Firefox Focus of your choosing.
This way, you don't have to keep on typing the entire URL of a webpage, the browser would auto-fill the URL once you start typing it. Again, this is not something unique and all the major browsers provide you with this basic utility. But seeing it on the Focus now is all the way a delight.
Today, we're introducing a new feature: quicker access to your most visited sites, as well as the ability to add any search engine to your Focus app. They were the most requested items from our users and are aligned with our goals on what makes Focus so great.
We know our users want choice and miss the convenience of having their favorite websites and search engines at their fingertips, but they don't want to sacrifice their privacy. Since the moment we've built Focus, our goal has been to get our users quickly to the information and sites all while keeping their data safe from unwanted targeting.
Grammarly Meets Android
After a successful browser plugin and a keyboard already launched for iOS, Grammarly has finally entered the world of Android.



Firefox Focus Updated:

After enabling the autocomplete feature, Focus can tap into over 450 most popular URLs available on the web and auto-fill them. If you happen to use a website that is not on the list, the browser would add it automatically.
If, however, you do not want this feature, you can disable it too.
In addition to this, there is also a custom search engine option provided. Using this feature, you can look up anything on a certain website without having to open it and scroll through it. This is a pretty neat feature in itself and we appreciate Mozilla for introducing it.
If you have not used Firefox Focus till now or if you do not even know what it is, Firefox Focus is essentially a browser which provides the user with the ability to block ads, analytics, social trackers, and a lot of privacy based features which you might not want at times. You get the ability to erase all your browsing history at the tap of a button every time you close the browser.
What are your thoughts on the Firefox Focus? Do let us know in the comments section below. Also, do not forget to subscribe to Android Updated. In order to do so, just hit the bell icon on the bottom of your screen.
In order to download Firefox Focus, you can hit the button given below:
Top 5 Android app development companies you can find in India
If you are looking for an Android app development company in India, you are at the right spot. Here is a list of the top 5 Android development companies that are tried, tested, and professional.
Note – this is not a sponsored post, so the review is completely genuine.
The top 5 Android app development companies you can find in India
Fusion Informatics is a well-established with using latest techniques and being the best Mobile apps development company in Bangalore. Our company has received many projects for Android, iPhone, Blackberry and Windows devices. We build mobile app technology and provide mobile application developing services throughout the business world. Android business serving bridge more than 85% throughout world, Android remain to support its strong status in the business.
Location: INDIA, USA & UAE
Founded In: 2000
Company Size: 150 – 200
Openxcell has its offices both in India and in the USA. The company excels in Software development, mobile app development, web and e-commerce development, and a lot more.
Location: INDIA & USA
Founded In: 2008
Company Size: 100 – 250
Creative69 is yet another professional Android app development company located in India.
We offer website design, Graphics, web & mobile app development and digital marketing.
The company offers services like web design, app design, Google AdWords campaigns, graphics design, and online marketing.
Location: Gujarat, India

Smarther Technologies is a leading Mobile Application Development agency in India located in Chennai.
The company has expertise in mobile app and website development services. The company has developed more than 200+ mobile app projects so far to its clients all across the globe.
Location: Chennai, India
Founded In: 2011
Company Size: 10 – 50
Services: Mobile application development (Android & iOS), Website development, Digital Marketing
Hidden Brains Infotech is one of the oldest Android app development companies in the country and is definitely a trustworthy one.
Location: Ahmedabad, India
Founded In: 2003
Company Size: 100 – 250
Services: Web & Mobile apps, E-commerce development, Bigdata services, Chatbot development and more.
These were some of the leading app development companies you can check out if you want to build an app for your company/personal use. What are your thoughts on them? Do let us know in the comments section down below. Also, do not forget to subscribe to Android Updated. To do so, just tap the bell icon at the bottom of your device screen.
Oppo files patents for Find Me and Find U smartphone apps
Oppo has filed the trademark for two smartphone apps dubbed the Oppo Find Me and the Oppo Find U. The report has come to Android Updated courtesy of Letsgodigital.
On May 6, 2019, various trademark applications were submitted by Guangdong Oppo Mobile Telecommunications. The applications were submitted from Spain to the EUIPO (European Union Intellectual Property Office), through an intermediary Domingo Galletero Company.
This Alicante-based company has often acted in the name of Oppo, Domingo Galletero Company recorded a series of brand names for the new Reno smartphone line-up last month. This company was also responsible for the Oppo Find Z application earlier this year.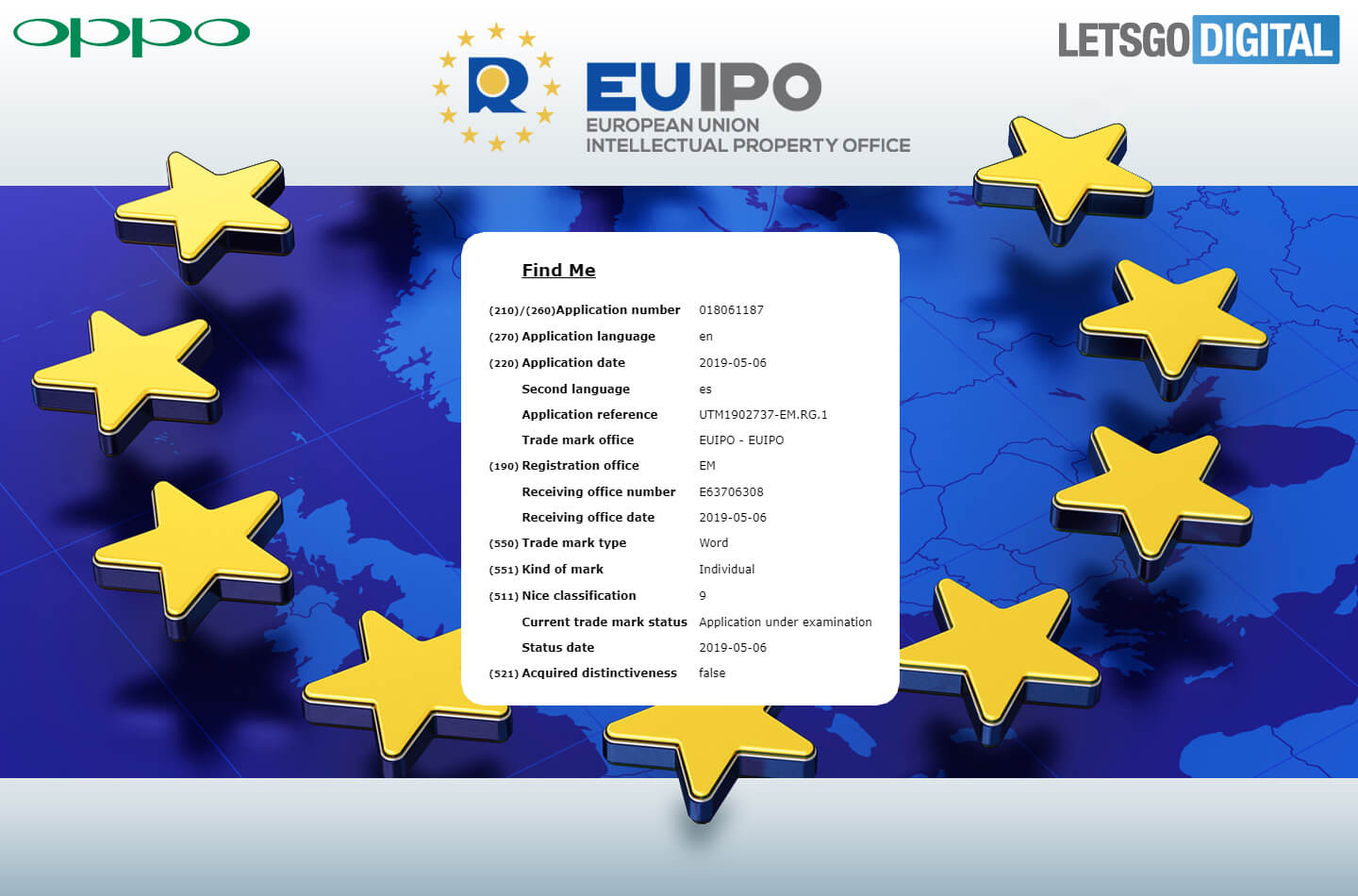 This time the company applied for brand name protection for the names Find U, Find Me and Find More. All three applications are categorized as Class 9. An extensive general description has been added, which unfortunately leaves some questions open.
Oppo trademark description : Tablet computers; Computer programs, Smartphone software; Smartwatches; Smartglasses; Interactive touch screen terminals; Humanoid robots with artificial intelligence; Wearable computers; Gesture recognition software; Virtual reality game software; Biometric scanners; Facsimile machines; Navigational instruments; Wearable activity trackers; Smartphones; Cases for smartphones; Protective films adapted for smartphones; Cell phone covers; Cell phone straps; Keyboards for smartphones; Speakers.
We are traditionally used by Oppo to place the high-end smartphones within the Find series. The latest model was launched last June, the Oppo Find X. Whether we can expect a Find smartphone again in June this year is still unknown. Finally, the Chinese manufacturer has just launched its new Reno smartphone series.

Although the description does say 'smartphones; cell phones', it is quite possible that this is not a new device, but a new app. For example, the description also says 'software applications'.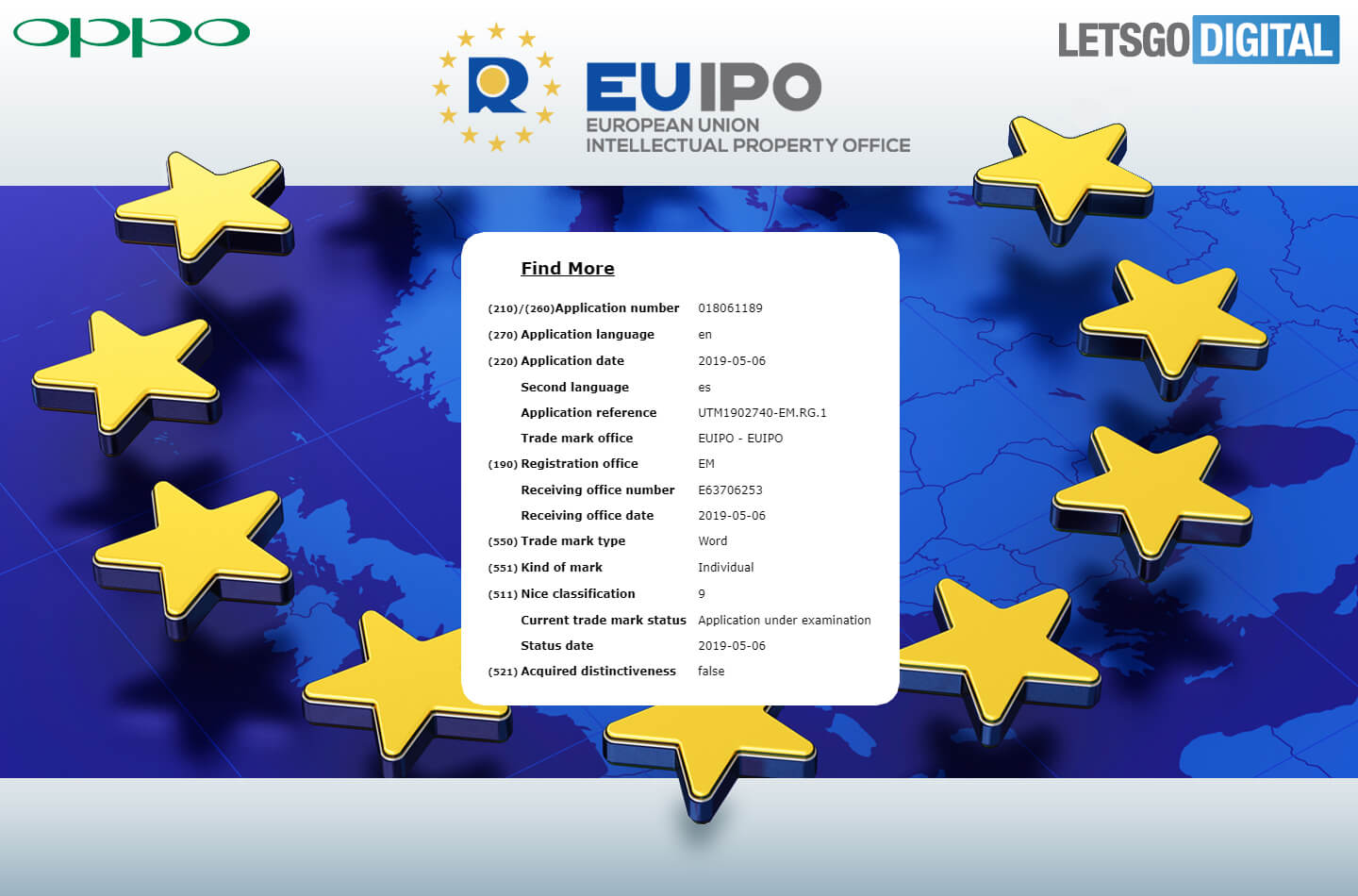 Oppo may intend to launch a new app that should make it easy to track your smartphone. For example, Samsung has the 'Find My Mobile' application. Oppo also offers a similar service, but this is done through Google Find My Device. It is therefore quite possible that the company intends to launch its own application.
View the trademark for Oppo Find U, Find Me, and Find More here.
Instagram for Android Updated: You can now ask MCQs in your stories
Instagram for Android has recently got updated. After the update, you will be able to ask multiple choice questions in your stories.
Last year, Instagram added an option to ask questions in stories and strangely enough, the feature was taken too positively and it kind of created a buzz amongst the users of the app.
Starting today, you can use the new quiz sticker in Stories to ask your friends and followers a multiple-choice question. See how well your friends know you.
Now, the developers have brought about the MCQs feature in the app. To ask a multiple-choice question, all you have to do is create a Story, add the Quiz sticker from the sticker tray, and fill in the question and answers. Post that, you have to select the correct answer and share the question. The people who answer the question will be notified as to whether or not their choice is the correct one.
Starting today, you can use the new quiz sticker in Stories to ask your friends and followers a multiple-choice question. See how well your friends know you. 🤔🙃 pic.twitter.com/a6y1PaOnSY

— Instagram (@instagram) April 23, 2019
The feature is available in both Android and iOS and you can get it from the respective app stores.
What are your thoughts on the latest Instagram update? Do let us know in the comments section down below. Also, do not forget to subscribe to Android Updated. To do so, just tap the bell icon at the bottom of your device screen.